Prep report: Top-Hi boys leading hungry pack in CWAC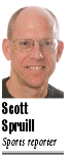 YAKIMA, Wash. — Stay humble, stay focused.
That's the message Joseph Mesplie has been directing at his Toppenish boys basketball team as the Wildcats head into the second half of the CWAC season in an unfamiliar position.
First place.
Riding an eight-game win streak, the 'Cats are ranked eighth in Class 2A and own a one-game lead over Grandview with eight con-ference games remaining.
Heady stuff for a program that went 2-16 in the CWAC two years ago and upped that to 8-10 last season.
"It's all new for the kids and new for the program," said Mesplie, who's in his fifth season at Top-Hi. "We periodically talk about how to handle it. Be humble, work hard and focus on getting better — that's what we keep telling them."
With eight seniors, Toppenish hasn't lost since Dec. 10 and that was no shame, falling 69-59 to 12-1 West Valley of Spokane. The team has avenged an early league loss to Ellensburg and beaten Grandview in the regular season for the first time in 15 years.
"Having our core back from last year helped us a lot with how cohesive we've been," the coach said. "We've been able to mix things up, keep teams guessing and handle the pressure so far."
The Wildcats do handle pressure because the average winning margin during their win streak is just 11 points. They gritted out five-point wins at Wapato and at home against Grandview.
Mesplie knows the minefields are many heading down the stretch, like a visit to Grandview on Feb. 3. But being the lead dog after 10 of 18 games has Top-Hi thinking about its first conference title in 25 years.
"There's a long way to go," Mesplie said, "but it's been nice to see the kids respond this way."
Burns done until fall
West Valley's multi-talented Lindsay Burns, the state's fastest 400-meter runner last track season and one of the nation's best defenders in soccer, will have to do something she's completely unaccustomed to athletically.
Nothing.
Suffering a torn ACL in a basketball game last week, Burns, a junior, will undergo surgery next week and will miss the entire track season.
The good news for Burns is that, after six months of rehab, she's expecting to be ready for her senior soccer season. A three-time first-team CBBN defender, Burns has already accepted a soccer scholarship offer from Baylor.
Burns is also a premier track athlete, having run the 400 in 55.74 seconds and long jumped over 18 feet as a freshman and sophomore. She also received second-team and all-defense honors in basketball as a sophomore.
But how many sports she does as a senior is now uncertain.
"My goal is to play soccer in the fall when I am healthy," she said. "I'm waiting to make a decision about the other sports for next year. I want to continue to play for West Valley, but I don't want to jeopardize my recovery and my soccer scholarship."
Beetchenow inducted
George Beetchenow, who coached at Moxee, Davis and Eisenhower spanning four decades from the 1950s to 80s, was inducted into the Washington State Track and Field Coaches Association's Hall of Fame on Jan. 14 in Everett.
Beetchenow was a throws specialist and he coached the state's first 60-foot shot putter — Moxee's Bill Buchanan, who in 1957 won the state title with a still-standing Valley record of 60-7.
Beetchenow also coached the still-standing school-record holders in the discus at Eisenhower (Mike Garrison, 173-4) and Davis (Dan Oaks, 167-1).
NORDSTROM ALSO HONORED: In addition to the Hall of Fame inductions, the WSTFCA also announced coach of the year awards for 2011 and West Valley's Jamie Nordstrom received the boys honor. Nordstrom will enter his 13th season as West Valley's boys and girls track coach this spring.
Benner's charity work
When Justine Benner sank 19 of 22 free throws in a SCAC West game on Jan. 6, it made me wonder if lightning struck or she's just that good at the foul line.
Turns out she had night's like that before, hitting 9 of 10 against Goldendale and 7 of 8 against Riverside Christian. For the season, coach Janell Coons reports that Benner is 83 of 120 — which means she's getting to the line more than nine times a game.
Benner's SCAC-leading scoring average is 19.0 as she closes in on 1,000 career points (942) and she's averaging 8.6 rebounds a game.
Postseason arrives
With its bowl-off victory over Wenatchee on Tuesday, Kennewick will host the 4A and 3A-2A district championships on Wednesday at Spare Times Lanes.
The 4A team finalists are Wenatchee, Eisenhower, Chiawana and Moses Lake and they will compete for one state berth. Two individual spots are also available.
Two state berths and four individual spots are up for grabs in the 3A-2A tourney, which includes Kennewick, West Valley, Pasco and Selah.
The state tournament will be held at Narrows Plaza Bowl in Tacoma on Feb. 3-4.
• Scott Spruill can be reached at 577-7686 or [email protected]
Filed under
All
,
Basketball (Boys)
,
Basketball (Girls)
,
Bowling (Girls)
,
Davis
,
East Valley
,
Eisenhower
,
Naches Valley
,
Preps blog
,
Selah
,
Soccer (Girls)
,
Toppenish
,
Track and Field
,
West Valley