Effort under way to rename Davis gym for Bouvier Brown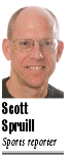 YAKIMA, Wash. — When the next school year opens this fall at Davis High School, the venerable upper gym on campus could have a specific identity.
Bouvier Brown Gymnasium.
That's the hope of an effort currently under way to honor the legacy of a longtime teacher and coach who passed away in late 2004 when the boys basketball season was just getting started.
"For the type of educator he was and the type of motivator he was — in all things, not just coaching — we think this is a great way honor his spirit," said longtime friend and Davis grad Tony Williams. "We were blessed to have a man like Bouv in our community."
Williams is submitting a formal request to the Yakima School District's Board of Directors today. He has also set up an online petition site to support the effort and within days over 400 signatures had been gathered.
"For all the good he has done and all the kids he has mentored, Bouv meets all the criteria for something like this, even exceeds it," Williams said. "So many educators I've spoken with think this is a great idea and wonder, 'Why didn't we think of this sooner?' I hope others agree."
Brown, a history teacher in the district, was 38 when he died of a heart attack during a road trip to East Wenatchee with the boys basketball team. He was an assistant coach under Shag Williams.
For those interested in signing the online petition, go to www.change.org/petition
On the upper bar, find Browse Petitions and type in 'Bouvier.'
Injury roller-coaster
The tough news for Davis' distance-running crew this track season is that standouts Kaitlin Kaluzny and Alberto Melchor were both done before they got started and had their final seasons robbed by medical issues
The good news is that Joseph Knox and Sydney Allen have both bounced back nicely from injuries and are looking sharp in the 800.
Knox, who missed nearly all of last track season with an Achilles injury, has run 1:57.73. He and Eisenhower sophomore Drew Schreiber (1:57.39) rank 1-2 in the Valley.
Allen, a sophomore who sat out the cross country season, ran a Valley-leader and career-best 2:22.44 in the Davis Invitational — her first race in nearly a year.
Closing in on perfection
While positions two through six are separated by just two games, the CWAC's top spot in baseball is all but wrapped up by top-ranked and unbeaten Ellensburg.
With five games to go, the Bulldogs are 13-0 with a four-game lead over Selah and Ephrata. Ellensburg has already swept those teams, plus the two squads tied for fourth — Prosser and East Valley.
Todd Gibson's crew has had its share of comfortable victories, but the key to its 13-0 conference run has been winning the close ones. The Bulldogs have won six CWAC games by one or two runs, including rallying for 6-5 wins over Selah and East Valley.
Last Saturday's sweep over Prosser featured a remarkable inning in the second game. Down 4-3 in the bottom of the third, Ellensburg broke loose for 14 runs — 13 of them with two outs. Six players reached base twice in the frame.
Off to college
In a recent blog post I summarized the signings of 29 area athletes who are headed to NWAACC colleges in the East Region.
Here's some additional news for athletes heading out of state:
Naches Valley's Justine Benner, who finished with 1,031 career points in basketball, is headed to George Fox. The Newberg, Ore.-college was the NCAA Div. III national runner-up last month with the help of senior Arianna Mohsenian from East Valley.
Prosser's Kenzie Koch, a two-time CWAC first-team pick in fastpitch, has signed with the University of New York at Buffalo, a Div. I college in the Mid American Conference. Koch's club team, Washington Explosion 18 Gold, was ASA state champion in 2010.
La Salle's Regine Standley is headed to Lewis-Clark State College for volleyball.
Down to fractions
Naches Valley's Jake Callaghan got one of his season goals last week at a SCAC West track meet. At least a share of it.
The junior thrower reached a career-best 55 feet, 11 inches in the shot put, which ranks fourth in the state overall and is the Valley best by over eight feet.
The prodigious heave also tied Mike Gillespie's 40-year-old school record set in 1972. Gillespie and Callaghan are tied for seventh on the Valley's all-time list.
From the note file
The WIAA on Thursday announced its 2012 Hall of Fame inductees, who will be honored May 9 in Renton. They include athletes Curt Corvin (Lakes), Tammy Tibbles (Creston) and Chad Ward (River View), coaches Gene Cerino and Linda Sheridan, official Ed Rhoades, contributor Steven McKenzie and Bruce Caldwell for fine arts.
• Don Schumacher announced he will retire at the end of the school year after 33 years at Kamiakin. He was boys basketball head coach for 21 seasons and the school's athletic director since 2000.
• Some items I've blogged about in recent weeks: The new Mid-Columbia Conference has agreed to a regional alignment with the GSL, pairing their single state allocations starting in the fall. The five 4A schools in the Columbia Basin Big Nine, including Davis and Eisenhower, will have one state berth with advancement directly to state. … The 2A state volleyball tournament is moving from Evergreen State College, after just one visit, to Pierce College in Lakewood. The 4A and 3A tourneys will stay at Saint Martin's for the next two seasons.
• Scott Spruill's prep blog is at sportsyakima.com He can be reached at 577-7686 or [email protected]
Filed under
All
,
Baseball
,
Basketball (Boys)
,
Davis
,
East Valley
,
Ellensburg
,
Naches Valley
,
Preps blog
,
Selah
,
Track and Field